Dogs and Hardwood Floors – Finally, a Solution!
April 27, 2023 | By Robbins Product Expert
Now You Can Love Your Dog and Your Hardwood Floors!
Imagine having the beauty and character of hardwood flooring without concerns about water or unsightly scratches from your 70-pound Labrador. Wood flooring that's waterproof, scratch-resistant, dent-resistant, and dog-proof. It's too much to ask. Right?

Well, now, you can have those hardwood floors and your dogs without the worries with new ArmorWood™ engineered hardwood from Robbins®. It's made from densified wood so it can handle even the most rambunctious pet. 

This revolutionary new wood flooring option delivers everything you need so you can love your dog and your hardwood floors. 
What Happens if Your Dog Has an Accident on Your Hardwood Floors?
As much as you and your dog might be a perfect match. The same can't be said for your dog and your hardwood floors. Typically, it's not a match made in heaven. If you have dogs, you face an initial concern.

Dogs can pee on your hardwood floors That isn't necessarily a massive concern as long as you quickly clean up the accident. Otherwise, if you allow the urine to stand, you risk it eating through the floor's finish and getting into the wood.

The chief advantage of engineered hardwood over solid hardwood flooring is its water resistance. Engineered wood features a stronger core, making it less porous than natural hardwood.

But it's important to note that despite that stronger core, traditional engineered hardwood flooring is water-resistant, not waterproof. And make no mistake. There's a big difference.
There's a Difference Between Waterproof and Water Resistant Flooring
Water-resistant floors can only handle small spills that you clean up quickly. So an issue arises if your dog urinates on your hardwood floors and it goes undetected for any amount of time. You shouldn't be surprised to see your floor's planks cupping in those spots.

However, waterproof hardwood floors can withstand spills for up to several days. They can also withstand moisture and high-humidity environments without the wood cupping or warping.
Dogs Can Scratch Hardwood Floors
The second big issue with dogs and hardwood floors is scratches from their nails.  And the bigger the dog, the greater your chances of those scratches occurring.

Those scratches may be okay if you like a more rustic appeal to your flooring. For that matter, you can install hardwood flooring featuring distressed wood to further its character and help hide blemishes from your dog's nails.

Purchasing engineered hardwood with a factory finish can help. Manufacturers include those finishes to prevent scratching and withstand heavy traffic. But even they'll begin to show scratches. And if you want your floors to be pristine, the build-up of scratch marks will likely drive you crazy.

Fortunately, unlike other dog-friendly flooring solutions like laminate or luxury vinyl, the upside to engineered hardwood flooring is that you can refinish it. With those other options, you'll have to live with scratches. That said, there's still the cost and time to refinish your wood floors.
The Harder the Wood, the Less Susceptible it is to Your Dog's Nails
Remember, even though engineered hardwood is less susceptible to scratching, it still features a real hardwood veneer. So you'll still have worries about scratching and denting.

And that's true, even though prefinished engineered hardwood typically includes an aluminum oxide coating that helps resist scratches.

You can reduce dog scratches by selecting harder woods for your flooring. For example, hickory, maple, and oak are less susceptible to scratches than softer wood flooring like pine, birch, or cherry.

Those harder wood surfaces help ward off scratches and dents. But now, you can capture a new hardness level with densified wood that makes your floors virtually dog-proof.
How Does Densified Wood Prevent Scratching?
We mentioned densified wood at the beginning. It uses a 100% natural process to take wood and make it even harder. The method uses heat and pressure – that's all. But the results are incredible.
 
For example, oak flooring owns a Janka hardness scale rating of 1360. Only hickory (1880) and maple (1450) have higher ratings among domestic hardwoods (the higher the number, the harder the wood).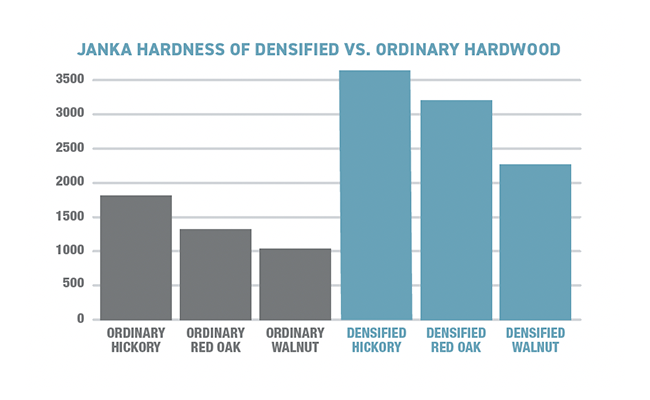 But by densifying the wood, oak's rating jumps beyond 3000, nearly tripling its density rating.  
  
If you're a dog owner, that added hardness substantially impacts hardwood's ability to resist scratches and dents from your dog's nails (or kids' toys). So you finally have an excellent option for dogs and hardwood flooring.
Waterproof Flooring Options
If you own a dog, accidents will happen.

First, you'll have to clean up pee now and then. In addition, dogs often leave water behind on floors when drinking from their bowl. And they love to roll on your floors after getting wet in the rain, not to mention their muddy paws.

The bottom line is that your hardwood floors will get wet if you own a dog. The best types of flooring for waterproofing typically include the following:
Porcelain tile: It's generally considered the best choice for areas prone to excess water. Porcelain tile has a water absorption rate of 0.5% or less. However, grout lines can cause issues if not maintained. 

Ceramic tile: Ceramic tile is slightly more prone to water absorption than porcelain. Again, the main concern is the grout lines.

Sheet vinyl: You'll get 100% waterproof performance if you avoid seams where water can penetrate the floor's surface.  

Luxury vinyl flooring: The flooring itself is waterproof, and the lock-and-fold style of joinery helps create a tight seal. But again, the seams create a weak point for moisture.  

Concrete: Growing in popularity, concrete delivers excellent water protection. It does require sealing, or it loses its stain resistance.
As mentioned, engineered hardwood is capable of handling some water. But excessive moisture, notably standing water, still causes stains or warping. So, it's imperative that you wipe up any water, preferably sooner than later.

But ArmorWood waterproof engineered hardwood flooring can handle water. It incorporates added pet protection. That protection prevents staining and discoloring of your wood flooring for up to 24 hours. So, it's less critical that you address water concerns immediately.
Scratch-Resistant Hardwood Flooring for Dog Owners
As stated, homeowners with pets typically turned to tile flooring, luxury vinyl, or laminate floors. Each offers an excellent option for scratch resistance. Plus, tile and luxury vinyl include waterproofing.

But ArmorWood changes all that. First, it's waterproof engineered hardwood. So you'll have fewer worries about dog urine and water splashes.

Second, it's four times more scratch resistant than traditional engineered wood. It's equivalent to the scratch resistance of laminate and SPC rigid core flooring. You can watch the video to see how well the densified wood withstands scratching.
Third, it's six times more dent resistant than other engineered hardwood flooring.

The floors were tested for dent resistance using the Janka test, which entails dropping a weighted ball from five feet. Densified wood flooring easily outperformed other solid and engineered hardwood floors.

You can finally enjoy your four-legged friend and hardwood floors when you add all these features. And by the way, you can install the flooring anywhere in your house. You can also elect to glue, staple, or float the engineered hardwood.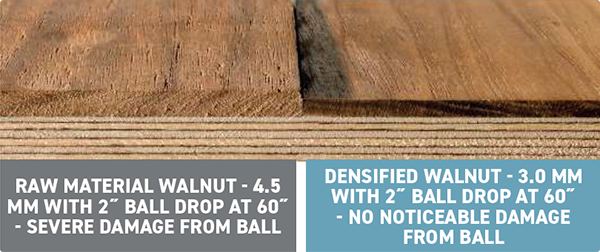 Waterproof Engineered Hardwood with Mold Protection Built In
Water can cause wood planks to cup and warp, as mentioned. But another consequence of moisture is mold. So, if water seeps into the seams of the floor's planks or even sits on the floor's surface for an extended time, you run the risk of mold.

Moreover, like any other surface, germs and bacteria accumulate on wood flooring. So it's essential to disinfect your hardwoods periodically to kill any pathogens that accumulate.

And that leads to another advantage of ArmorWood hardwood flooring for dogs. It includes Cleanivity™ antimicrobial protection. The coating inhibits the growth of mold, mildew, and bacteria that can damage the floor. It also protects against odor and discoloration caused by mold and mildew.

You'll enjoy a dog-friendly flooring option that can handle anything you throw at it.
Other Ways to Protect Your Hardwood Floors from Furry Friends
If you have a dog, you can start by selecting a hardwood floor capable of holding up. So, as mentioned, pick harder wood with a factory finish.

But there are other steps you can take to minimize things, especially on solid or engineered hardwood floors.
Trim Your Dog's Nails: Dog nails can easily damage your flooring. So, it's best to trim them regularly. You can also use dog booties or nail covers. 

Use Area Rugs: Place rugs in areas where your dog spends most of its time. That will eliminate the potential for scratches. Just keep an eye out for urine. 

Clean Stains Quickly: When you see a puddle, whether it's pee or water, wipe it immediately. Never give water a chance to seep into your hardwood. 

Opt for a Good Finish: As mentioned, engineered hardwood floors come with a durable aluminum oxide finish. That finish helps ward off scratches. 

Floor Colors: Light wood floors with a low sheen hide pet hair and scratches better than darker, high-gloss floors. Throw in engineered hardwood with a distressed or hand-scraped finish, and you can hide imperfections on your floor even more. 
You don't have to give up owning a dog and having wood flooring. Just take some protective measures. 
Robbins Has the Best Hardwood Floors for Dogs
Our new ArmorWood™ engineered hardwood floors were built for dogs. So there's no need to worry about scratches, staining, and water damage.

Plus, the densified oak wood floors come with a 50-year residential warranty, the best in its class. ArmorWood may just be the last wood floor you'll ever have to buy!

Robbins offers other styles of designer hardwood flooring, including solid and engineered hardwoods. We even offer wood-look flooring options like our Pro-Tekt™ SPC rigid core vinyl flooring and TimberTru® composite flooring.

Regardless of the flooring, you select, you can depend on Robbins for wood flooring that lasts well and looks great.

Use our hardwood floor visualizer to select the floor that best fits your room. And when you're ready to purchase, our retail locator will help you find the dealer nearest you. 
---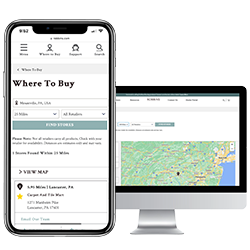 Ready to shop for dog-proof flooring near you?
Use our retail locator to find where you can buy Robbins ArmorWood™ flooring. 
Find a Store