Engineered Hardwood Flooring
The Ultimate Guide for Homeowners
November 16, 2023 | By Robbins Product Expert
Numerous choices exist when upgrading your home's flooring or choosing the perfect option for a new home build. Among them, engineered hardwood flooring is a popular and versatile option. Indeed, engineered wood floors surpass solid hardwood flooring in sales.

If you aren't familiar with engineered floors, we'll examine their pros and cons. We'll also give you a better notion of the key differences between solid and engineered hardwood flooring.
How Engineered Flooring is Made
It's essential to understand that engineered hardwood is genuine hardwood. But it doesn't include the same hardwood thickness.

Engineered wood floors use a layer of wood for their top and bottom. Whether white oak, hickory, or maple, that layer is 100% natural hardwood. That wear layer of hardwood bonds to underlying layers using plywood or high-density fiberboard (HDF).

Those underlying areas represent the substantial difference between the two hardwood types. The flooring's core includes multiple crisscrossed layers of plywood. Typically, the more layers, the better the flooring.
Engineered Hardwood's Core is Where the Magic Lies
And here's the big plus of having that manufactured core — it makes engineered hardwood more stable than solid wood flooring. That translates to fewer concerns about warping or expanding when exposed to moisture. Moisture can come in the form of spills or changes in humidity, not to mention temperature fluctuations. 

As a result, you can install engineered hardwood flooring on all levels of your home, notably basements. The only exceptions are a bathroom and laundry with substantial water concerns.

Even then, manufacturers like Robbins® have a solution. Their HydroGuard® engineered hardwood floors are 100% waterproof. So now, bathrooms present no obstacle to enjoying wood flooring. 
Engineered Hardwood vs. Solid Hardwood Flooring
One of the chief differences between solid and engineered hardwood is thickness. The standard thickness of engineered hardwood's wood veneer is 2mm or 1/16 inches. High-quality engineered hardwoods use 3mm or 4mm thicknesses, translating to 3/32 and 1/8 inches, respectively.

The core comprises the remaining plank's thickness to reach 3/4 inches, typical for wood flooring.

With solid hardwood, the entire plank is hardwood. So, you'll have 3/4 inch of 100% hardwood with solid wood floors.
Pros of Engineered Hardwood Flooring
We already mentioned one of the considerable pros of engineered wood floors. They offer improved water resistance compared to solid wood floors. But there are some other advantages.
 
Because it uses a plywood or HDF core, engineered hardwoods typically cost less than solid hardwoods. So, you can get oak flooring, for example, at a less hefty price tag than a solid oak floor.
 
If you hire a professional installer, it will also cost less to install an engineered wood floor.

Many people consider engineered hardwood flooring a more environmentally friendly type of flooring. Because it uses less solid wood in its manufacture, it requires less harvesting of trees. 

Best of all, there's no limitation to your flooring selection. Engineered hardwood floors come in numerous species, finishes, and colors. So you can find the perfect floor for your style. 
Cons of Engineered Hardwood Flooring
Like any flooring, you get what you pay for. Some manufacturers skimp on the core, leading to poor-quality flooring that won't last. So, focus on purchasing from a top-notch manufacturer like Robbins. They warrant all their engineered hardwoods for 25 years.

Additionally, don't confuse water-resistant with waterproof. Engineered hardwoods do resist water better than solid hardwood floors. But that doesn't mean you can leave spills standing. Eventually, they'll soak into the wood and cause issues.
A Thin Veneer Means Less Opportunity to Refurbish Engineered Wood
The biggest downside to engineered hardwoods is longevity, especially when compared to solid hardwoods.

Remember, engineered wood has a thin veneer layer of hardwood. As a result, you have less opportunity for sanding and refinishing engineered hardwood floors. 

You might redo your floors twice with a 3mm or 4mm thickness. With a 2mm thick top layer, you might be unable to do it even once.

With 3/4-inch thick floor planks, you can sand and refinish solid hardwood floors at least four times. 
Look to Robbins for Engineered Hardwood Solutions
Robbins has more than 125 styles and colors of engineered hardwood flooring. You can select from birch, maple, hickory, white, and red oak species in rustic and traditional finishes. You can also get mixed planks and wide planks options, with up to 7″ widths.

Use our retail locator to find the Robbins' dealer closest to you. 

---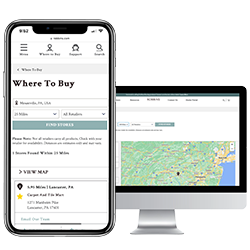 Ready to shop for engineered flooring near you?
Use our retail locator to find where you can buy Robbins engineered hardwood flooring. 
Find a Store