Why Choose Rustic Hardwood Flooring?
Rustic hardwood flooring never goes out style.
February 3, 2023 | By Robbins Product Expert
When you think about trends, they typically have a come-and-go component. For example, have you ever heard of shag carpet? It was high-style in the 1970s but waned in the late 1980s (though it has now climbed back in style).

Even though many trends fade away, some become mainstays. Rustic hardwood flooring and rustic design style are one of them.

So why is the rustic design style so timeless? Rustic emphasizes natural elements and organic materials. It focuses on items that come directly from the earth, and that helps garner its timeless appeal.

You might think you must live in an early 1800s log cabin to embrace a rustic design style. But the rustic style works equally well even in modern homes.

In many ways, the rustic style is about a way of life focused on openness and being unpretentious. It's about a connection to the past.

One of the foundations for rustic design is flooring, and nothing says rustic quite like rustic hardwood flooring. It literally serves as the foundation for the design style. So let's look at why you might want to choose rustic hardwood flooring for your home.
Hardwood Flooring Sits at the Core of Rustic Styling
Natural wood is a focal point of rustic design. That includes wooden furnishings, exposed beams, and, obviously, rustic hardwood flooring.

Whether reclaimed barnwood, hand-scraped solid hardwood, or rustic-engineered hardwood flooring, wood floors set the tone. Moreover, the flooring needn't be perfect, as heavy graining, knots, rings, wormholes, and nail holes only add to its character.

Timeworn patina is adorned by those seeking a rustic style. It captures all the elements that add luster to wood – aging, sun exposure, oxidation, and being lived on.

Even alternatives to rustic hardwood, like laminate, luxury vinyl plank, or rigid core vinyl flooring, incorporate elements like mineral streaks, knots, and texture to emulate real hardwood.
Alternatives to Rustic Hardwood Flooring
Having mentioned hardwood alternatives, here's a closer look at each. The primary upside to these types of flooring is that they offer a low-cost alternative to solid hardwood flooring.

Laminate rustic flooring incorporates four layers:
·       Wear layer
·       Photographic layer
·       Core layer
·       Backer paper.

The photographic layer reproduces the realistic look of wood. It can approximate different species. It can also mimic grain patterns, knots, and other elements resembling wood flooring.

Rustic luxury vinyl plank (LVP) also takes a layered approach, sometimes as many as six to eight. Rather than using a high-density fiberboard (HDF) for its core, like laminate, it uses vinyl and a plasticizer. Nevertheless, it does an equally good job of mimicking hardwood flooring.

Rustic rigid core vinyl flooring features a core using a wood plastic composite (WPC) or stone plastic composite (SPC). As a result, its core is more resilient than LVP. In addition, rigid-core vinyl flooring is thicker, making it even more stable than LVP.
Rustic Engineered Hardwood Flooring
Of course, if you're looking for the closest thing to the real deal, nothing approximates solid hardwood like rustic engineered hardwood flooring. After all, its wear layer uses bona fide wood like oak, maple, birch, hickory, and other popular hardwood.

Like the other hardwood alternatives, engineered wood flooring is layered. Its core consists of interwoven plywood. That creates a rock-solid core that substantially stabilizes the floor's planks.

In addition, laminate and vinyl flooring require an image to approximate natural hardwood. But engineered floors use a real hardwood veneer — 100% hardwood.

Solid hardwood can expand, contract, and warp when exposed to high humidity or moisture. However, engineered hardwood offers superior water resistance. As a result, it's less prone to expanding and contracting.

So you can use engineered hardwood without concern in basements, kitchens, and other moisture-prone areas. In addition, you can install engineered hardwood as a floating floor to make things easier.
Oak Flooring is a Favorite for Rustic Hardwood
Unlike vinyl and laminate flooring, where a closer inspection gives it away, you can't tell the difference between solid versus engineered wood. So, companies like Robbins produce rustic hardwood flooring with a timeless look, mineral streaks, and knots.

For example, its Lasting Traditions collection features white oak engineered hardwood replicating a rustic design. Oak epitomizes rustic hardwood flooring. It has long been one of the staple species for wood flooring.

Oak is one of the most common species in North America. Even today, homeowners most often install red and white oak flooring.

Two other favorites for farmhouse-style rustic flooring include maple and hickory. Both have long-standing traditions as flooring material.

Hickory, in particular, offers an incredibly unique personality with its burls, knots, color streaks, and grain variations. As a result, it quickly becomes the focal point of any room.

Some companies add to Hickory's already rich character with hand-scraped planks. For instance, the Rustic Directions collection from Robbins includes a hand-scraped finish accentuating the wood's surface.

Hickory flooring is also the most durable among native species. Its Janka rating of 1820 surpasses those of maple (1450) and oak (1360). So you'll have great looks with wood flooring that will last for years.
For Added Charm, Choose Wide Plank Flooring
Wide planks typically come to mind when thinking about rustic hardwood flooring. Wide plank hardwood flooring adds even more character and naturalism to hardwood flooring. And many times, it features a hand-scraped or wire-brushed texture for even more charm.

Traditional flooring generally uses 2-1/4″ to 3″ wide planks. But wide plank flooring usually starts at six inches and can reach as high as 24 inches with specialty flooring. For example, Lasting Traditions white oak engineered hardwood is 7-1/2″ wide.
Benefits of Rustic Wide Plank Flooring
Apart from its classic looks, wide plank flooring offers other advantages. First, installing wide planks is easier than narrow-width planks because it provides greater coverage with fewer hardwood planks.

Second, rustic wide plank flooring features the wood's grain and color variations more than narrow-width planks, adding to its natural look. It also adds more visual interest to a space.

Finally, wide plank flooring adds a sense of space to a room. Because it produces fewer seams than traditional flooring, it opens things up.
Turn to Robbins for Designer Hardwood Flooring
Robbins is your go-to source for designer hardwood flooring that captures timeless trends. For example, our rustic hardwood flooring with wider planks reflects today's trend for more natural products. Virtually all our engineered hardwood flooring features at least five-inch planks, with many seven inches.

You can add to the rustic style with distressed, wire-brushed, and hand-scraped surface textures. And most of our hardwood collections use oak and hickory, two popular and timeless wood species.

We might have rustic flooring options, but we use today's technology to make your shopping experience easier. For example, our hardwood floor visualizer helps you find the right floor for your room. Just take a picture using your smartphone, upload it to the app, and it will show you how the floor you've selected looks in your room.

When you're ready to buy the perfect rustic hardwood floor, our retail locater will help you find the nearest dealer.

---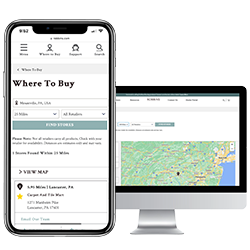 Ready to shop for rustic hardwood flooring near you?
Use our retail locator to find where you can buy Robbins engineered hardwood flooring. 
Find a Store