Engineered Hardwood vs. LVP
Both engineered hardwood and luxury vinyl plank (also referred to as rigid core flooring) offer a look and feel of solid hardwood. But which is the better choice between engineered hardwood vs. LVP?
November 28, 2022 | By Robbins Product Expert
Differences Between Engineered Hardwood vs. Luxury Vinyl Plank (LVP)
Even though you might prefer solid hardwood flooring, sometimes it's not a good fit. For example, your room might have water challenges like a basement or kitchen. Or perhaps, you're concerned about heavy traffic from kids and pets marring your hardwood.

The good news is that you can still capture the beauty of hardwood flooring with some equally beautiful and durable options like laminate flooring, engineered hardwood, and vinyl. Let's examine two of those options: engineered hardwood vs. luxury vinyl plank (LVP).

Before comparing the two, let's start by understanding these types of flooring.

The Skinny on Engineered Hardwood Flooring
If you put engineered hardwood next to a solid hardwood floor, you'll likely be unable to tell the difference between them. That's because engineered hardwood uses a real wood veneer on its surface.

Solid hardwood planks use one piece of natural wood from top to bottom. Contrastingly, engineered hardwood planks limit the real hardwood to a thin veneer. That veneer, or wear layer, is generally 2mm to 3mm thick.

So, if your taste leans toward white oak flooring, that veneer will be oak. Prefer hickory? Then the veneer boasts natural hickory wood.

Beneath that wear layer lies layers of crisscrossed plies consisting of various composites, often plywood, rather than a piece of solid wood. That plywood core layer makes the planks tighter and less porous. As a result, it's more resistant to water damage than solid hardwood.

In addition, the plywood core makes engineered hardwood typically less expensive than solid hardwood.
LVP Offers the Look of Hardwood But Uses Vinyl
Although LVP flooring uses polyvinyl chloride (PVC), the result is flooring that mimics hardwood flooring closely. Very closely.

Like engineered hardwood, LVP takes a layered approach, using four different layers.

First, a top layer of aluminum oxide prevents scratching and scuffs. Second, a transparent film layer protects the floors from ripping and tearing.

Third, and here's where the magic happens, LVP incorporates a design layer. That layer uses a photo-realistic look of genuine hardwood. With today's digital imagery, LVP can capture oak, hickory, maple, and other wood grain looks with incredible clarity. So, it isn't easy to know whether it's hardwood flooring.

It's even possible to get LVP flooring with distressed looks, such as hand-scraping, nail holes, and other embellishments to capture a vintage look.

Finally, a backing layer made from rigid vinyl completes the plank. That layer accounts for 90 percent of the floor's thickness. It also makes LVP flooring semi-rigid. The semi-rigid planks then snap together during installation.

You can "upgrade" to rigid core flooring that uses wood or stone composites for an even more durable form of luxury vinyl.
Comparing Engineered Hardwood vs. LVP Flooring
The great thing about either flooring option is the variety. Either allows you to select a preferred wood species, grain, and finish. And both typically cost less than actual hardwood flooring.

One significant difference is the material, wood vs. vinyl. If you're looking for the look and feel of natural hardwood flooring, engineered hardwood is your better choice. After all, it's made from natural wood.

If you're looking for the warmth of a solid hardwood floor, engineered hardwood accomplishes that. They also feel similar underfoot. You can tell you're walking on a hard, rigid surface.

Even though LVP approximates hardwood floors, some with absolute depth, the planks are still vinyl. You can feel the difference when you touch the floor's surface.

You can also tell when you walk on the LVP flooring. Because it's semi-rigid, it feels softer underfoot.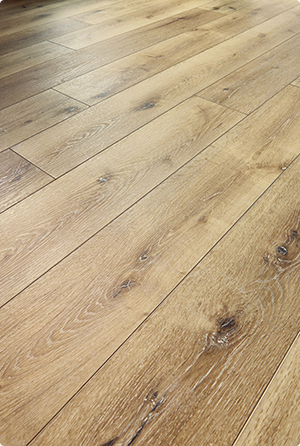 Pro-Tekt™ Trending in Weathered Warmth
Engineered Hardwood Holds Up Longer Than LVP
If you're looking for durable flooring, you can't go wrong with either flooring solution.

Lots of people like LVP because it resists scratching and chipping. So, dog owners often turn to LVP flooring to avoid gouges from dog nails.

The downside is that vinyl planks can tear if you move heavy objects. Those heavy objects can also leave dents on LVP flooring. However, you can replace planks, similar to engineered hardwood.

Engineered hardwood resists the dents you find on LVP. But it's more susceptible to scratching and gouges. The good news is that many manufacturers use finishes that help resist scratches.

But here's where engineered hardwood shines compared to LVP. You can sand and refinish engineered hardwood flooring if you install one with a thick enough wear layer, preferably 2mm or more. The thicker the veneer, the more times you can go through the refinishing process.

Because engineered hardwood can be refinished, you can expect your hardwood to last a long time, even a lifetime. Manufacturers routinely offer 25-year and more extended warranties. For example, Robbins® warrants its Nature's Canvas™ engineered hardwood for 50 years.

Unfortunately, the same can't be said for LVP flooring, as it can't be refinished. You'll have to replace the floor if its surface shows excessive wear.

As a result, LVP flooring must be replaced every five years for lower-quality flooring. Even higher quality LVP flooring needs to be replaced in 20 to 30 years.
Both Flooring Types Offer Easy Maintenance
How well you take care of your floors dramatically contributes to their longevity. Well, both LVP and engineered hardwood are easy to maintain.

With engineered hardwood, you want to avoid harsh cleaning agents that can damage the wood's finish. Otherwise, you can vacuum and use a soft-bristled broom to clean your floors. Manufacturer-approved cleaning solutions like those from Bruce do a great job regarding hardwood floor care.

Engineered hardwood can also handle damp mopping, unlike solid hardwood flooring. However, that doesn't mean you should saturate your wood floor with water. You can also keep your engineered wood floors looking great with touch-up kits.

Like engineered hardwood, LVP flooring can be cleaned with a broom and vacuum cleaner. Unlike most engineered wood flooring, however, you can also wet mop LVP. It's best to avoid floor wax, ammonia, or abrasive scrubbers.
LVP Owns an Advantage vs. Engineered Hardwood Against Water
At a minimum, LVP flooring offers water resistance. However, many LVP floors go a step further and deliver 100% waterproofing. So, if you're terribly concerned about water damage, LVP may be the better option.

Engineered hardwood flooring offers better moisture resistance than solid hardwood flooring. For instance, solid hardwood expands and contracts when faced with moisture or humidity. But engineered wood expands and contracts less. Typically, however, engineered hardwood flooring isn't waterproof.

Although some manufacturers like Robbins have 100% waterproof engineered hardwood flooring. Its HydroGuard™ flooring is waterproof and even offers superior scratch, stain, and dent resistance.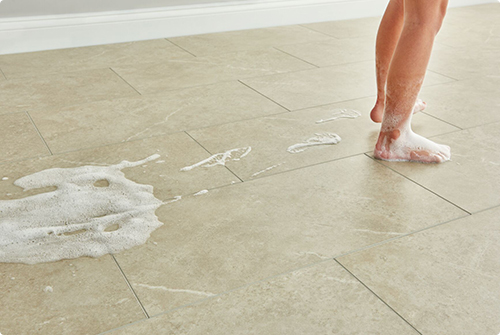 Pro-Tekt™ Reserve in Stonework Tan
LVP Installs Faster than Engineered Hardwood
Really, both flooring types are reasonably easy to install. However, LVP is the best option to complete the installation in a hurry. LVP allows you to float your floors. Conversely, some LVP flooring uses a peel-and-stick approach for installation.

The bottom line is that if you consider yourself a DIY warrior, LVP makes installation like clockwork.

Like luxury vinyl, engineered hardwood can be floated. In addition, you can glue, nail, or staple planks to the subfloor. And that's where engineered hardwood installation gets a bit more complex and takes longer than LVP installation.

It's also best to acclimate engineered hardwood to room temperature before installation. It's less of a requirement than solid hardwood, but it's still a good idea.

Some folks are happy to bite off engineered hardwood installation. However, others prefer working with a professional. They know the ins and outs of hardwood installation. So, you can expect to get a better job.

Cost of Engineered Hardwood vs. LVP
Although you can find comparably priced engineered hardwood vs. LVP, engineered hardwood will most likely cost more. Though, as mentioned, both options will save you money compared to solid hardwood.

The type of wood, finish, and thickness drive engineered hardwood costs. Plus, you'll incur even more expense if you choose professional installation. The counter to those costs is that engineered hardwood flooring is often the last floor you'll have to install. LVP will likely require replacement.

You can expect engineered wood flooring to run $4 to $10 per square foot. Professional installation can tack on another $3 to $8+/-.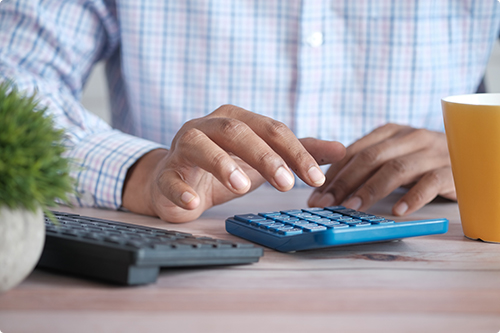 LVP flooring typically costs between $2.50 and $5 per square foot. If you want it installed professionally, it's considerably less expensive than engineered hardwood at around $1 to $3 per square foot.

So, if budget is a considerable driving force in your decision, LVP flooring will almost always be the less expensive route. And remember, all of these costs are averages and can vary based on geographic location, etc.

Which Flooring Solution is Better: Engineered Hardwood or LVP?
If solid hardwood flooring is out of the question owing to budget or water concerns, you can't go wrong with either engineered hardwood or LVP flooring.

If your heart is set on natural wood flooring, the decision is easy – engineered hardwood. The flooring will last a long time and withstand heavy traffic, especially some of the latest engineered flooring options like Robbins' HydroGuard, where you'll also get 100% waterproof floors.

The downside is that you'll pay more and take more time to install the flooring.

If budget is your driving factor, it's tough to beat LVP. You'll get the look of natural hardwood flooring, albeit through a digital image. Still, LVP installs easily and costs less than engineered hardwood.

If you're looking for the real deal, check out the collection of solid hardwood and engineered hardwood flooring from Robbins. You can count on Robbins for designer hardwood flooring that meets your unique taste and styling.

And check out the hardwood floor visualizer. It lets you see how Robbins hardwood flooring will look in your room. Just take a picture with your smartphone and upload it to the application. When you decide, you can find the nearest Robbins retailer here.

---