ArmorWood™ Densified Hardwood
Enjoy Dog-Friendly Wood Flooring Anywhere in Your Home

100% Real Hardwood Flooring That's Dog-Friendly

ArmorWood™ densified hardwood doesn't feature fillers, plastics, or harsh chemicals to harden the wood. 100% real hardwood means this is all-natural wood, now better than ever. Better because it handles scratching and denting more than traditional engineered hardwoods. In addition, it offers waterproof protection. So, your furry friend's occasional mishaps won't threaten your floors. ArmorWood covers all the bases when you're looking for dog-friendly wood flooring.

6X More Dent Resistant Than Traditional Engineered Hardwood

When tested for indentation resistance by ASTM D2394, a two-inch weighted metal ball is dropped from a five-foot height and indent impact levels are measured – ArmorWood™ performed best versus the competition! So you won't have to worry about dropping a pan onto your floor or having your kids slam their toys. The densified engineered floors ward off dents from those types of impacts. As a result, your floors will stay looking new for longer.

4X More Scratch Resistance to Stop Scratches from Dog Nails

Your dog's nails can wreak havoc on your wood floors. And the bigger the dog, the more damage it can cause. But ArmorWood ™ has equivalent performance to SPC rigid core and laminate flooring, both known for their superior scratch resistance. And the densified engineered wood offers far more substantial scratch protection than solid or engineered hardwood flooring. Just think. Thanks to this dog-friendly wood flooring, you'll enjoy beautiful hardwood without unsightly blemishes.

Dog-Friendly Wood Flooring with Waterproof Protection for the Occasional Accident

ArmorWood™ flooring delivers waterproof protection*.  And if you have a puppy or older dog, that comes in handy. You'll have fewer concerns if your dog has an accident or splashes water on your wood floors because these engineered hardwood floors can handle water for up to 24 hours without staining or discoloring. Even better, their waterproof performance and scratch resistance gives you the flexibility to install the floors anywhere in your home, from high-traffic areas to basements and bathrooms.​ Just another way we make our wood flooring dog-friendly.

What's Densified Wood?​
A revolutionary breakthrough in hardwood flooring. Robbins ArmorWood densified wood is a 100% natural product created using a 100% natural process. By harnessing the basic properties of heat and pressure, densified wood achieves extraordinary results as pure as nature. ​
​
What takes nature millions of years to do, we can do in a matter of minutes, transforming real hardwood into even harder wood. 

For example, oak flooring owns a Janka hardness scale rating of 1360. Only hickory (1880) and maple (1450) have higher ratings among domestic hardwoods. But by densifying the wood, oak's rating jumps beyond 3000, nearly tripling its density rating. The wood becomes almost as hard as steel.

That added hardness translates into fewer scratches from your dog's nails. And you'll enjoy the peace of mind that comes with it.

No fillers. No chemicals. Just 100% natural wood now better than ever!​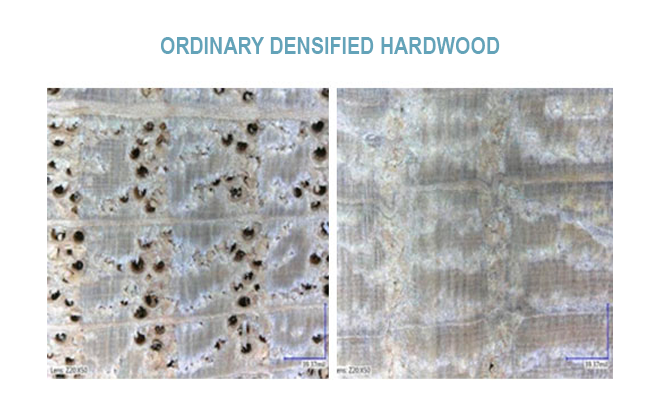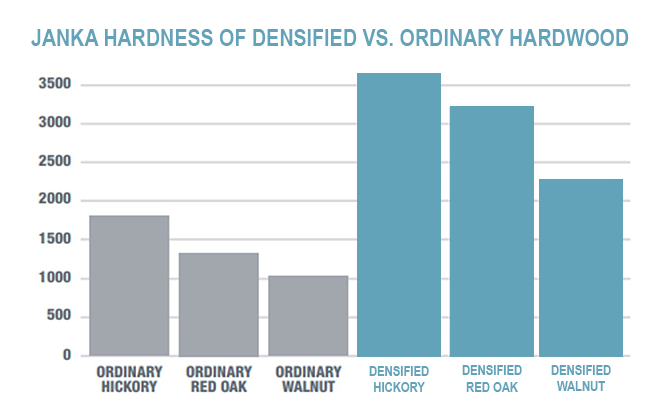 ArmorWood Takes Dog-Friendly Wood Flooring to Another Level
Engineered Hardwood with Cleantivity™ Antimicrobial Protection
ArmorWood™ dog-friendly wood flooring features our Cleantivity™ antimicrobial coating technology. The coating inhibits the growth of bacteria, mold and mildew and protects against odor, damage and discoloration that may be caused by mold or mildew. So, if you don't get to the occasional accident from your four-legged friend or fail to wipe up a spill, you'll have less concerns about mold growth.​
Dog-Friendly Wood Flooring with Added Protection
Worried about an occasional accident from your pup? Well, don't. ArmorWood™ engineered hardwoods feature added pet protection. So even if your dog can't hold it long enough for their outdoor potty break, the floors won't stain or discolor for up to 24 hours*. Combined with its already waterproof performance, you'll enjoy dog-friendly wood flooring.
Best-In-Class Warranty
ArmorWood™ densified engineered wood floors come with a 50-year residential warranty. They also include a 10-year limited commercial warranty. So, even if you're not shopping for a dog-proof hardwood floor, you can rest assured that our floors will hold up beautifully.​ This revolutionary wood flooring has it all — waterproofing, scratch resistance, dent resistance, and mold resistance. It's the last hardwood floor you'll have to buy! Even with a dog!
* See warranty for more details.
Color
Species
Installation Checking Availability
We're Sorry
Samples are currently out of stock for
Please check with your local retailer for sample availability in-store
We're Sorry
There was an error adding the sample to your cart.
Please check with your local retailer for sample availability in-store