What is Engineered Hardwood Flooring?
If you've been shopping for hardwood flooring, you might have stumbled onto engineered hardwood. And if you're the inquisitive type, that's likely left you asking, "What is engineered hardwood flooring?" Fortunately, we're here to help answer that question.
February 3, 2023 | By Robbins Product Expert
Solid Hardwood vs. Engineered Hardwood
Whether you purchase solid hardwood or engineered hardwood, you get genuine hardwood flooring.

The difference is in the construction. As a result, engineered hardwood has more features than solid hardwood. For example, most engineered wood flooring is water resistant and provides more flexible installation.

So, when deciding between the two, you'll have to determine if these added features are important to you.
Solid Hardwood Construction
Solid hardwood is precisely that – the flooring's planks from top to bottom are made from a solid piece of hardwood. Typically, those planks are ¾ inches thick and range in width from 2-1/4 to 5 inches.

You can select from any number of wood species. The most common domestic hardwoods are maple, oak, and hickory. More exotic species include mahogany, tigerwood, rosewood, and numerous others.

The advantage of solid hardwood flooring is that you can refinish it several times. It's not out of the question to refinish a solid hardwood floor at least four times. And that translates to longevity.

A solid wood floor will likely outlive you.
Engineered Hardwood Construction
Engineered hardwood flooring looks just like solid hardwood. But the floor is slightly less thick, ranging from 3/8 to 9/16 inches. Although plank widths mimic solid hardwood, you can often purchase engineered hardwood flooring with wider widths of 7 inches or more.

Generally, the available wood species and colors are narrower than solid hardwood. Plus, although you can purchase solid hardwood in finished and unfinished versions, engineered is almost always prefinished.
Engineered Hardwood's Significant Difference
Now, here's the primary difference between solid and engineered hardwood flooring.

Unlike solid hardwood, engineered wood flooring uses a thin hardwood veneer bonded to a layered core. That layered core generally uses plywood assembled in a crisscross fashion: the more layers, the more stable the flooring.

Generally, engineered wood floors use 7 to 9 plies. Lower-grade floors use as little as 3 plies, while higher-grade floors have as many as 10 or more.

That thin wear layer is another significant difference between solid and engineered hardwood. Namely, if the engineered hardwood can be refinished, it can only be sanded and refinished a couple of times. Any more, and you'll reach the plywood core.

One other difference to note: some prefinished engineered hardwood flooring has beveled edges. For many, beveled edges add a pleasing aesthetic to the flooring. In addition, they make installation easier because they hide imperfections.

However, this bevel creates a slight, V-shaped groove between the floorboards. Conversely, solid hardwood usually has tight seams between boards.
Engineered Hardwood Flooring Costs Less Than Solid Hardwood
If cost is a concern, engineered hardwood generally costs less than solid hardwood. So, if you're a fan of maple flooring, maple engineered flooring typically will cost less than its solid hardwood counterpart.

Nationwide, solid hardwood flooring averages roughly $8 per square foot, generally ranging from $4 to $15 per square foot.

Engineered hardwood flooring can cost as little as $2.50 a square foot, with a high of about $10 per square foot. Most engineered hardwood falls between $4 and $7 a square foot.
Engineered Hardwood Withstands Moisture Better Than Solid Hardwood
Remember the plywood core we mentioned? Well, that makes engineered hardwood flooring more capable of handling moisture concerns than solid hardwood.

Neither hardwood flooring option is recommended for wet locations, unless waterproof, which we talk about below. But engineered hardwood's plywood core provides greater stability. As a result, it's less prone to warp in damp, humid conditions where solid hardwood will be a significant concern.

But here's a key point – the bulk of engineered wood is water resistant, not waterproof. So, don't think you can install engineered wood floors in a room with considerable water concerns.
Waterproof Engineered Hardwood
However, some manufacturers like Robbins® have come up with waterproof engineered hardwood. Its HydroGuard® flooring delivers 100% waterproof protection. Consequently, you can install it anywhere without concern.

Robbins has also created revolutionary new engineered wood flooring called ArmorWood™. It uses a unique manufacturing process to create densified wood. The process is natural but makes densified wood even harder than natural hardwood.

For example, oak flooring owns a Janka hardness scale rating of 1360 (the higher the number, the harder the wood). But that rating climbs to 3000 as densified wood.

The floors are 100% waterproof while delivering 4X more scratch resistance and 6X more dent resistance than standard hardwood flooring. It also includes an antimicrobial coating to inhibit mold and mildew growth on the flooring.
Installing Solid and Engineered Hardwood Flooring
You can install solid and engineered hardwood flooring with a standard nail-down method. But engineered hardwood offers more flexibility for flooring installation.

Solid hardwood requires a level subfloor for nailing the planks. You nail the tongue-and-groove planks through the tongue. This method hides the nails when the floor is complete.

On the other hand, engineered hardwood flooring increases your installation options. Many engineered hardwoods use a click-and-lock system. So, you can nail them to a subfloor.

The Acoustics and Comfort of Solid Versus Engineered Wood Flooring
You'll likely detect some differences in the sound properties of each wood flooring option. 

Because solid hardwood is nailed down (and sometimes glued in addition), it creates a stable surface. So not surprisingly, you'll get a firm feel underfoot. Owing to its density, solid hardwood also absorbs sound and distributes it more evenly throughout the room. 

On the other hand, engineered floors are often floated. As a result, they'll feel softer underfoot. They also don't absorb sound like solid hardwood, so that you may hear slight echoing. 

In short, if sound absorption is a checkbox for you, solid hardwood is likely your better option. But if you like your floors to be more comfortable when walking, engineered hardwood may feel softer with a little bounce. 

You Can Use Engineered Hardwood Anywhere in Your Home
First, you can glue engineered hardwood to a concrete subfloor. Second, you can float engineered wood flooring. So, if you fancy yourself a DIYer, you'll find engineered hardwood simpler to install. 

Equally important, you can install engineered hardwood at all levels in your home. Solid hardwood demands above-ground spaces like living rooms, dining rooms, family rooms, or bedrooms. 

Engineered hardwood flooring works in those locations, too. But it allows you to install wood flooring in basements and over concrete floors due to its water resistance. Engineered hardwood also works well with radiant heating. 
Maintaining Solid vs. Engineered Hardwood Flooring
There's little difference in the care of either hardwood flooring option. You should regularly sweep and vacuum each to remove debris that can scratch your floors. 

You can also mop them. Engineered hardwood can withstand wet mopping better than solid hardwood. But as long as you're careful to avoid pooling water on solid hardwood, all should be fine. 

You can also use approved wood floor cleaners like Bruce Hardwood & Laminate Cleaner. 
Environmental Concerns
People increasingly look closer at the environmental impacts of products. So make sure you buy your hardwood flooring sourced from a forest certified by the Forest Stewardship Council. You can be confident that the trees harvested are sustainable.

The good news with either flooring option is that they use wood in one shape or form. However, solid hardwood is the more eco-friendly of the two. Why?

It lasts longer than engineered hardwood, so you don't have to replace the flooring as often.

You can reclaim and reuse solid hardwood flooring. Indeed, you can recycle it to make engineered wood. 

Solid hardwood is 100% biodegradable. 
One advantage of engineered wood is that it uses less of the tree than solid hardwood. Plus, recycled wood can be used to manufacture engineered planks.

However, engineered hardwood uses glues and resins. So, some floors can emit volatile organic compounds (VOCs). The adhesives also make the flooring less biodegradable.
Don't Confuse Engineered Hardwood with Laminate
Some people think laminate, or even luxury vinyl tile (LVT), is the same as engineered wood flooring. However, there's a big difference.

As mentioned, engineered flooring uses a real hardwood veneer. It may be a thin top layer, but it's still 100% bona fide hardwood. And it's virtually indistinguishable from solid hardwood flooring.  

In contrast, LVT and laminate flooring use a photographic layer to approximate hardwood's look and texture. They do a great job of accomplishing that. But their feel is nothing close to hardwood, whereas engineered hardwood delivers the same feel as solid wood flooring. 

Engineered hardwood flooring costs more than laminate and LVT. But it will likely increase your home's resale value as buyers prefer hardwood flooring, even engineered, to other types of flooring. 
Robbins: Designer Hardwood Flooring Made in the USA
We offer more than a hundred styles of engineered hardwood flooring. Colors range from white and gray to copper and brown.

You can select from several species, including birch, hickory, maple, and red and white oak. Various finishes are also available, like traditional, rustic, and distressed. Planks range from 5 to 7 inches. 

In addition to real wood flooring, we produce quality wood-look alternatives. For example, you can select Pro-Tekt rigid core vinyl flooring and TimberTru® composite flooring. Both capture the authentic look of hardwood, with superior scratch resistance for improved wear and tear. 
 
Regardless of which one  you select, you'll get the appeal of designer hardwood flooring in your home.  
 
You can also use our hardwood floor visualizer to help you choose. Upload a picture of your room, select the flooring, and the visualizer will show you how it looks. So, you can take the guesswork out of picking the right floor. 
 
Once you decide, you can find the closest retailer here.   
---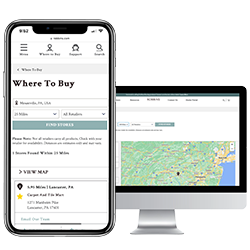 Ready to shop for engineered flooring near you?
Use our retail locator to find where you can buy Robbins engineered hardwood flooring. 
Find a Store